What To Do With an Empty Debenhams
The Debenhams building in the arc has been much discussed recently since it was announced that The Everyman Cinema Group have shown interest in turning the building into the town's third cinema.
We have been discussing this in We Love Bury St Edmunds! over a couple of posts and the general consensus of opinion is that we don't want it.
Of course there have been the usual comments about people wanting Primark which always gets peoples opionions divided. But other more worthy suggestions have been put forward. Surely, it would be wise for Everyman to actually listen to what potential users of the building want?
The suggestions have been Rollerbury 2, a venue for an indoor market with a variety of traders along the lines of La Bouqueria in Barcelona, an arts venue which would attract bigger names than the arc, museum with a space for local art exhibitions, Mixed Entertainment centre, a youth hub. etc
One member commented "they don't care if it affects us. The decision seems to be a cinema from what I hear and there are SO many of us who have expressed how much we don't want another one. Perhaps the owners seeing angry residents never getting a say, will sway."
Another member says
"Even if the building doesn't belong to the council, you'd think they'd need consulting and I'd have thought the company wanting to create a 3rd cinema would have done some market research to check demand. Unless they don't care about being a threat to the other two. Then we just move the problem and create empty buildings elsewhere. NO THANKS
How about escape rooms in one part and craft stalls in another? Shame the outer shell isn't transparent glass and make an indoor garden, like a mini Eden project.
Thinking about the environment surely the textile industry needs reducing – it's one of the biggest industries for pollution. Please do not support primark – slave labour and encourages huge increases in the throw away industry.
What happened to the group volunteering to fix broken household gadgets – operating from the Apex a while back? Guess about health & safety. Wish our council were more forward thinking in supporting more sustainable green projects.
They might not own the Debenhams building but it doesn't stop them doing a public consultation and a call out to sustainable companies to consider it."
And really pushing the boat out "The Debenhams building would make a great media hub – local radio, TV, recording studio, perhaps some themed small shops selling music, games, etc. Great access for film units, right in the middle of town, and not too many neighbours to upset.
Come on, BBC Suffolk!!"
But there has also been a development today. The people who live in the arc have received a letter from the West Suffolk Council.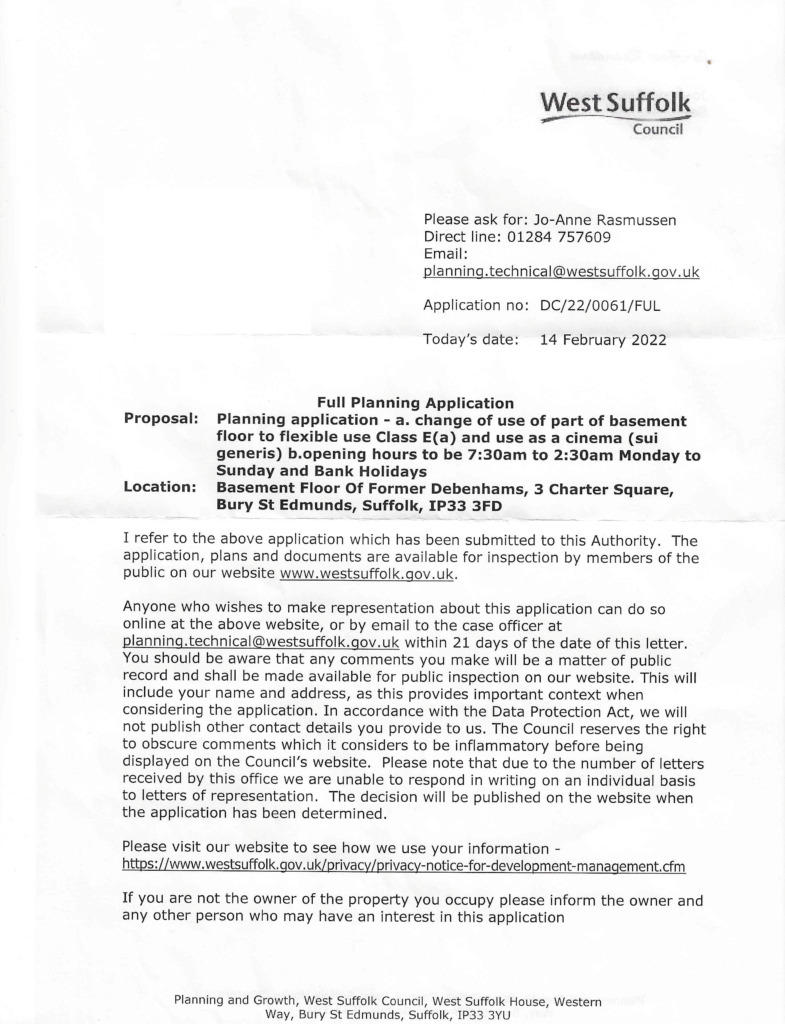 As you can see, the letter states that "ANYONE who wishes to make representation…" Contact them, and tell them what you want, and what you don't want!
So have we missed any suggestions, please comment below.
www.westsuffolk.gov.uk/privacy/privacy-notice-for-development-management.cfm
OWNERS Alter Domus Guernsey Ltd
EMAIL [email protected]
Who are The Bury WM Unit Trust ?
Email sent to Everyman Cinema
In my Community based Facebook Group, "We Love Bury St Edmunds!" se have been discussing the possible development of the iconic Debenhams building in the arc, Bury St Edmunds. It is very clear amongst the 22,600 plus members that the last thing we want is a third cinema in the town.
I look forward, as so do my members, your views. I would like to think you would be more successful, if you listen to the residents of the town.