Walkabout with "We Love Bury St Edmunds!" Friends
A Perfect Summer Evening
Our first walkabout with "We Love Bury St Edmunds!" was on a great summer evening. It was not too hot, not too cold, and it wasn't raining. We gathered at the entrance of the Abbey Gardens, wearing our bright "We Love Bury St Edmunds!" badges.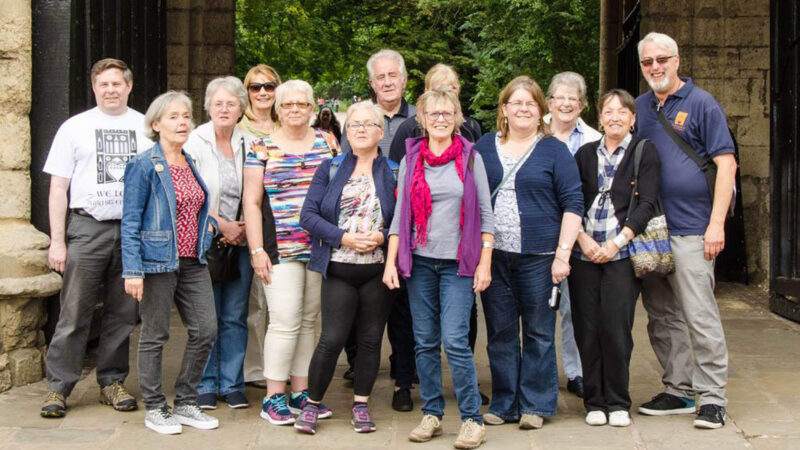 Meeting Facebook Friends
Some of us knew each other from Facebook, while others were meeting for the first time. We chatted, laughed, and waited for everyone to arrive. Once all of us were together, we took some pictures and introduced ourselves.
Exploring Abbey Gardens
We started our walk in the beautiful Abbey Gardens, admiring the plants, the river, and a tree stump carved into a monk and his horse. We also saw the modern wrought ironwork, reeds, and bulrushes.
Walking and Chatting
Our group of over a dozen people walked through footpaths and pavements. We passed dog walkers, families, and cyclists. We chatted about gardens, other walks, and places we wanted to visit.
Discovering New Paths
As we walked, we discovered footpaths that we didn't know existed. These paths are easy to miss when driving by at 30 mph. It was a perfect summer evening for exploring our town and making new friends.
Returning Home
As we walked back into town, we admired the orchids and caught our breath. We said our goodbyes and thanked each other for a great evening. Some of us stopped for a drink before heading home. We promised to do it again and explore different paths, knowing that this was just the beginning of our love for Bury St Edmunds.
A Perfect Evening to Remember
The entire walkabout was on a perfect summer evening – not too hot, not too cold, and not raining. We made new friends, discovered new paths, and fell more in love with Bury St Edmunds.